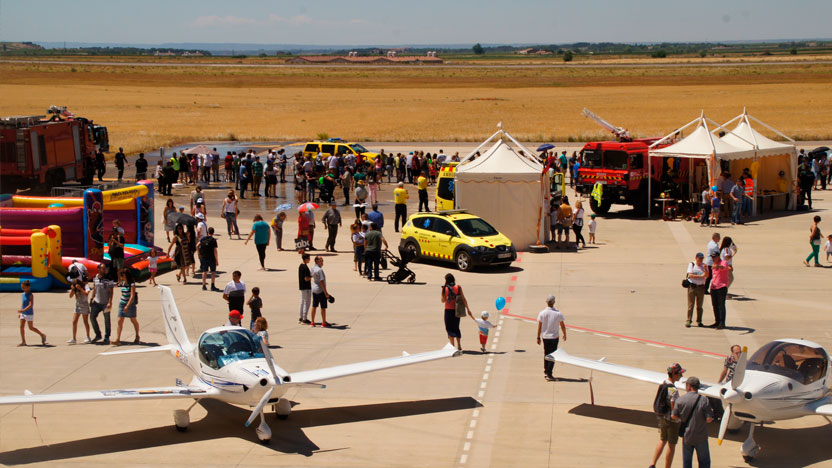 noticies
The Lleida-Alguaire airport has hosted the aeronautical fair LleidaAirChallenge with 60% more exhibitors
The aeronautical fair, LleidaAirChallenge, which was held on the first weekend of June, was a success not only of the public but also for the exhibitors.
The fair, opened by the Secretary of Infrastructure and Mobility, Isidre Gavín, is already beginning to position itself as a place to be in the aeronautics sector inside and outside of Catalonia. This is the third year that the airport focuses this event as an aeronautical fair and not as an air festival. The fair has had approximately eighty stands and there have been conferences and workshops. In addition, on Sunday morning, two aerial shows were performed by Àlex Balcells and Jorge Macias.
LleidaAirChallenge had 60% more exhibitors compared to the 2018 edition and 300% compared to 2017, "which shows the success of the commitment made three years ago to turn this event into a fair", says Gavín . The fair has also opened the doors of the airport to all its areas: billing area, collection of luggage, etc.
For Gavín, "this fair is important both for the airport and for the same aeronautics sector. Achieving that a large number of companies in the aeronautical sector meet during a weekend makes synergies and business opportunities come true. For the airport, it is an opportunity to publicize its space and allow some of these companies to establish themselves and help build the industrial and aeronautical airport of Catalonia that we are looking for ".
The fair has gathered stands on flight schools, drones, passenger cabin crew schools, aviation mechanical schools, airfields, motor-powered flights, avionics companies, aircraft maintenance, rocket companies, helicopters, aviation engines, aviation applications, fuel companies, aeronautical engineers, aeronautical medical examinations, photometry and calibration companies and balloon manufacturers.